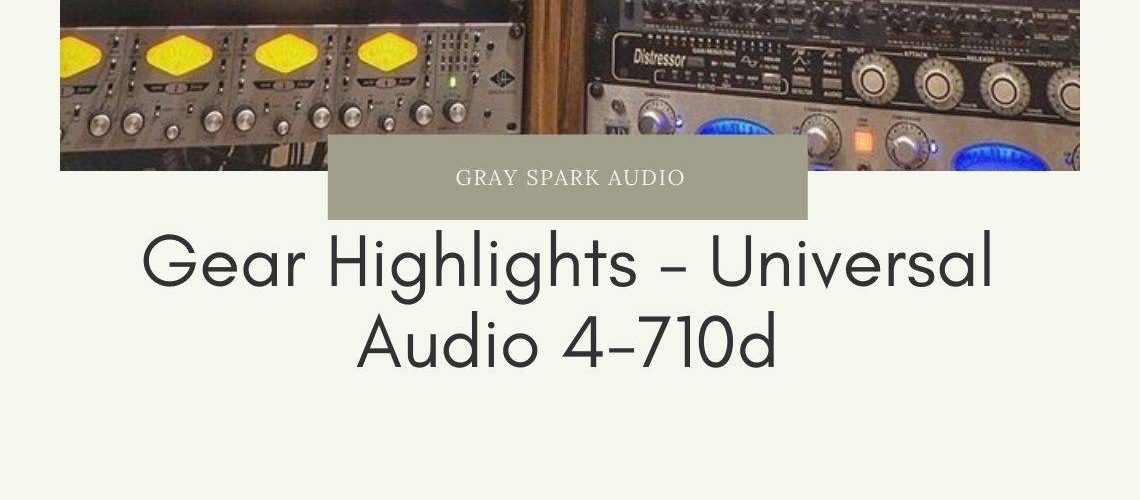 Gear Highlights for Audio Engineers and Producers the Universal Audio 4-710d is a classic preamplifier that has a four-channel microphone/line preamplifier with tube and solid-state tone blending, offering four additional line inputs, dynamics control, and eight channels of pristine analog-to-digital conversion. 
belongs to the category of "a must have analogue gear for every studio". It's a dream come true for every recording engineer to record through this gear and it is very versatile and flexible and not that complicated to use. You can never go wrong with this gear; vocals, percussions, guitars, pianos etc can be recorded through this classic preamp.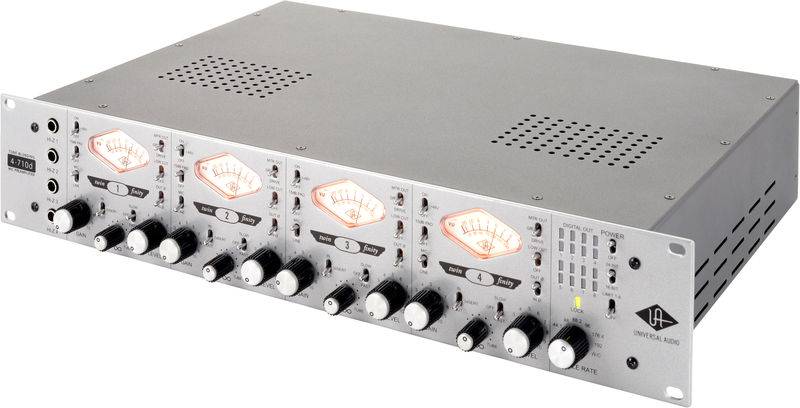 The main feature it has is the mind-boggling blending capability of tube character and transistor character and if blending is not to your taste then you can also go 100% tube or 100% transistor. 4710d also has a built-in 1176-style compressor, including specially tuned "fast" and "slow" settings. This enables quick, on-the-fly tweaking for fattening up a vocal, holding a bass guitar in place, or for adding sizzle and texture to synths and horns.

The 4-710d combines UA's classic design approach with several modern innovations, creating a unique studio device suited to a wide range of applications. At the core of the 4-710d are four channels of tone-blending "Twin-Finity " mic preamps with true bypass compression.
Each of the four mic preamp channels allows for continuously variable phase-aligned tone between 100% tube and 100% solid-state. Send and return jacks are available for external processing or signal access.
The eight analogue inputs are digitized via high-quality 24-bit A/D converters at selectable sample rates up to 192 kHz. The digital output is available via dual ADAT "light pipe" or AES/EBU DB-25 connectors, facilitating integration with the most popular audio interfaces.
Preamplifiers
•Four TEC Award-winning 710 Twin-Finity™ microphone/line preamps
• Dual-path 285-volt Class-A tube and transimpedance solid-state preamps
• Phase-aligned tone-blending of the tube and solid-state circuits, creamy to crunchy
• Newly designed 1176-style compression circuit per preamp channel
• JFET Direct Input with 2.2MΩ ultra Hi-Z impedance w/auto input override
• Large backlit VU meters for flexible metering of input drive, gain level and gain reduction
• Balanced send/return inserts (half-normalled)
• 48V phantom power
• 75 Hz low cut filter
• Polarity switch
• Monolithic balanced output stage

Analog-to-Digital Conversion
• Eight channels of high-quality 24-bit A/D conversion:
• Selectable sample rates up to 192 kHz
• Digital output via dual ADAT optical and AES/EBU DB-25 connectors
• 8-channel soft limiter (switchable for all channels)
• Ultra-low jitter clock subsystem
• LED metering array with clip/hold indicators
• 75Ω BNC work clock I/O
• Digital outputs anti-pop protection on power-up
Get in touch!
If you guys have another other questions you would like to shoot at me, just shoot me a mail at ronak@gray-spark.com.