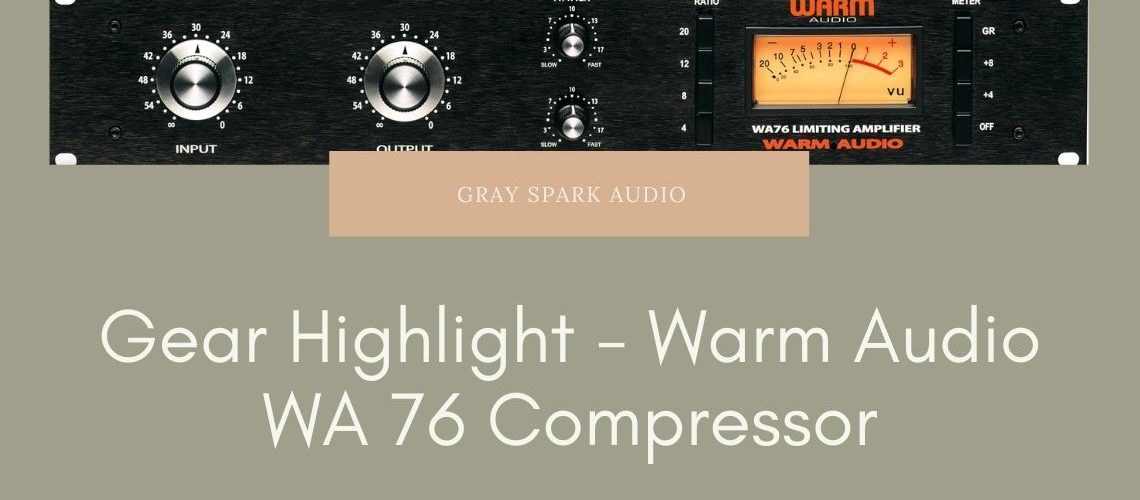 Gear Highlights- Warm Audio WA 76
Warm Audio's WA76 set its target high: the most iconic solid-state limiting amplifier in history. How does Warm do it? Through economies of scale, mostly. They don't cut corners on components (the WA76 employs genuine US-made Cinemag transformers), but they do order parts and build in quantity, which keeps costs down. Like the original classic unit, the WA76 gives you a completely discrete signal path and the same arrangement of controls. And yes, it replicates the original's explosive performance when all the ratio buttons are pressed in. Elevate your studio to the next level with the Warm Audio WA76.


The WA76 Discrete Compressor is a modern reproduction of the Classic '76 Revision  The WA76 has a fully discrete signal path and uses the original Reichenbach Engineering's (now CineMag) transformer design. The classic '76 was a major breakthrough in limiter technology, and used on hundreds of hit records since its inception. Engineers have craved the ultra-fast attack time and trademark sound of the '76 for decades, and now it is finally affordable!
Our goal was to make a compressor of this pedigree affordable for the first time, without compromising the quality and design parameters that make this type of compressor so desirable. 
The WA76 can reproduce the classic effect known as 'All Buttons In' mode, sometimes also referred to as 'British Mode' or the 'Four Button Trick'. Originally an accident due to the mechanical nature of the interconnected latching switches, this mode is reproduced by pushing in all four ratio buttons simultaneously and getting them to latch. This can take a bit of practice. The resulting compression curve is aggressive and unmistakably unique, and can be heard on the drum tracks of many classic recordings.
All-buttons-in compression is typically characterized by having a very aggressive compression ratio, attack and release curves that are more drastic plateaus opposed to gentler slopes, and more audible distortion or 'overdrive' on the signal. Initial transients are more likely to come through loudly, followed by heavy compression curve sometimes described as having a 'sucking' effect as the compressor releases. Because this mode is considered a design accident, faithfully maintained; it is normal for the meter function to 'peg out' and cease providing accurate metering.
Every studio needs a good limiter, and the Warm Audio WA76 is designed after the mother of all limiters. With its lightning-fast response time and pristine, all-discrete signal path, the WA76 is your go-to device for everything from subtle, transparent dynamics control to full-on brickwall limiting. It's fabulous on bass, kick drum, snare, vocals — you name it. It's a must-have for punchy parallel processing on drums, and if you have two of them, the possibilities become even greater.
Get in touch!
If you guys have another other questions you would like to shoot at me, just shoot me a mail at ronak@gray-spark.com.