Student Speaks – In this blog series features previous batch students sharing their insights in response to a few of our questions. In this edition we have Tushar Kangarkar from the batch of 2021-22.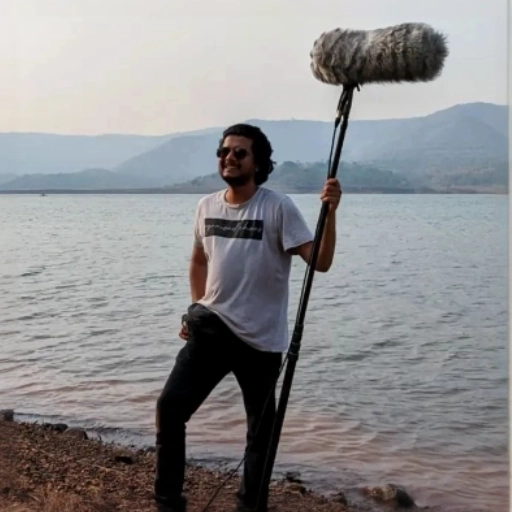 Could you introduce yourself and tell us more about you?
Hello, I am Tushar Kangarkar from Latur Maharashtra, I am currently studying in the prestigious Film and Television Institute of India here in Pune. I have completed a course of Sound Engineering and Music Production 2021-22 from Gray Spark Audio Academy before getting into FTII. I am currently working as a Film Sound Designer and take up Feature film projects as well as Documentaries and Short films. I have also collaborated and worked with many Independent film creators. 
How did you get interested in pursuing a career in Audio?
From an early age I was interested in Music and I got influenced in the Sound engineering aspect of it because of a brother who completed a course in Sound Engineering from KMMC Chennai. Later during my graduation I got interested in working on theater plays and I used to take care of the audio and its technical aspects. After graduation I got admitted to the course at Gray Spark Audio Academy where I got to work on some sound design projects that were happening at the studio which got me further interested in Film and Video productions. Hence I decided to work on Films as my career. 
Tell us a little about what you were doing before joining the course?
Before the course I completed an online course from Berklee College of Music regarding sound engineering and basics of Pro tools. This was just to expose myself to the technical aspect of what was actually needed for making a career in this industry. This knowledge in addition to my experience which I had working on the theater plays enabled me to work on some short film projects that my friends were doing at that time.
Could you tell us about your journey and your experience in Gray Spark Audio Academy?
Gray Spark Audio Academy was the best experience I have had in all of my learning phase. I got to learn a lot of topics that were pretty confusing at first but thanks to the mentors that were guiding us at every step of the course, every concept got cleared giving me a clear idea of how to use them in my work. Thanks to the assistantship program I got to work on the projects that were going on in the studio and also got to interact with clients which gave me real life hands on experience in dealing with different kinds of projects which had different expectations.
What projects did you work on during the course?
Other than the assignments that were given to us as a part of the course, during my assistantship I got to record Voice overs for multiple Advertisement projects that were going on at that time. I assisted on Recording and Mixing of some of the albums and singles by artists like Easy Wanderlings, Radhika Mohite, Nida, Derric D'Souza, Adi Rao, etc. I also assisted in recording a live band performance by Vinay Kaushal and his bandmates for Salam Soli. During that time I also worked on Sound design for an animated video for Govt. Of Dubai. I have also assisted on recording and editing some parts of the song Plastic Joys by Shreyas Iyengar. One of the most memorable experiences was recording some layers for the song Mayflower by Easy Wanderlings.
What were some of your biggest learnings from the course?
The biggest learning from the course I would say is the analytical thinking that I have developed thanks to the exposure I got along with the ability to always be creative at every stage of the project. The tasks that were assigned were specifically designed to make every student realize a specific skill that was needed to finish that task and that in turn pushed us to hone that skill and grow. The mentors made sure we worked towards our goal as well as understood and incorporated all the concepts that were being taught. Best part about the course was that the tools were being taught keeping in mind the genuine use of the tools only if needed. Recording techniques and exposure to a beautiful set of microphones has empowered me to know when, how, and why to use a specific microphone according to my needs
Tell us a little about your future plans?
I plan to continue working in the Film Sound field and to keep improving my aesthetic and technical knowledge to create better projects in the future. I plan on taking up freelance Sound Design Projects and to work on them from Location Sync Sound to the final Mix Output of the film.
What advice do you have for people who are starting off new in this field?
For someone starting out in the field I would suggest finding out a great mentor or a place that can give you genuine knowledge and guide you atleast at the starting of your career. There are a lot of places that promise a lot of things but can't fulfill them completely. Other than that just go online and keep reading. If you don't understand something, find someone who can tell you about it. And don't hesitate to ask questions. Other than that, always have fun and be curious about audio 🙂
Get in touch!
If you guys have another other questions you would like to shoot at me, just shoot me a mail at ronak@gray-spark.com.