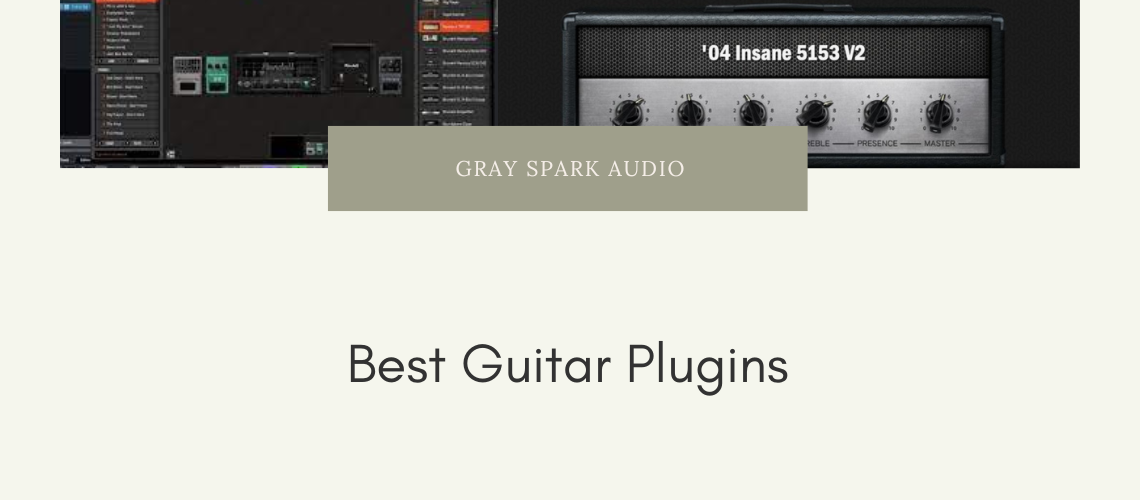 In the ever-evolving landscape of music production, guitar plugins and virtual instruments (VSTs) have become indispensable tools for both guitarists and producers. These digital counterparts to traditional amplifiers and effects pedals offer unparalleled versatility, convenience, and creative potential. In this blog, we'll dive into some of the most popular and powerful guitar plugins available, including Guitar Rig 7 Pro X, Slate THU, Waves GTR, and others. Get ready to discover how these plugins can revolutionize your guitar recording and production game.
Native Instruments Guitar Rig 7
   – Native Instruments' Guitar Rig 7 Pro X is a true heavyweight in the world of guitar plugins. This all-in-one virtual studio features an extensive collection of amps, cabs, and effects, allowing you to craft your dream guitar tone with ease.
   – The newly redesigned Control Room Pro provides a realistic studio environment for mic placement, creating an authentic recording experience.
   – Guitar Rig's library boasts over 60 meticulously modeled amplifiers and cabinets, along with a vast array of stompboxes and creative effects.
   – Slate Digital's THU (Slate THU) is celebrated for its unmatched realism and depth in amp modeling. It offers an impressive selection of amplifier models and a wide range of microphones and cabinets.
   – The Rig Player allows you to blend different amp and cabinet combinations effortlessly, offering endless tone possibilities.
   – THU's comprehensive FX section includes a variety of modulation, delay, and reverb effects to add depth and character to your guitar tones.
   – Waves GTR is renowned for its simplicity and effectiveness. It provides a streamlined interface and a wide selection of classic guitar amps, stompboxes, and studio-quality effects.
   – The intuitive GUI makes it easy to dial in the perfect tone, whether you're going for vintage warmth or modern edge.
   – GTR also includes presets designed by top guitarists, making it a great choice for musicians of all levels.
IK Multimedia Amplitube 5
   – IK Multimedia's Amplitube 5 is another industry favorite, offering a vast collection of guitar and bass gear simulations.
   – Amplitube's Custom Shop allows you to expand your arsenal with additional amps, effects, and stompboxes.
   – The Live mode lets you seamlessly integrate Amplitube into your live performance setup, turning your computer into a versatile guitar rig.
   – Positive Grid's Bias FX 2 stands out for its impressive customization options. You can tweak every aspect of your guitar tone, from amp settings to mic placement, and even circuit components.
   – The ToneCloud feature allows you to share and download user-created presets, fostering a vibrant online community of guitar enthusiasts.
   – Bias FX 2 also offers a comprehensive collection of amps, pedals, and effects, ensuring you'll find the perfect sound for any genre.
Guitar plugins and VSTs like Guitar Rig 7 Pro X, Slate THU, Waves GTR, Amplitube 5, and Bias FX 2 have revolutionized the way musicians and producers approach guitar recording and production. With their unparalleled flexibility, authenticity, and convenience, these plugins empower you to explore a vast sonic landscape, from classic vintage tones to cutting-edge modern sounds. Whether you're a guitar virtuoso or a producer looking to enhance your tracks, these plugins are essential tools in the modern music production arsenal. So, grab your guitar and dive into the world of endless possibilities that guitar plugins and VSTs have to offer. Your musical journey is about to get a whole lot more exciting. To learn more about music production with guitars check out our top music production course.
Get in touch!
If you guys have another other questions you would like to shoot at me, just shoot me a mail at ronak@gray-spark.com.