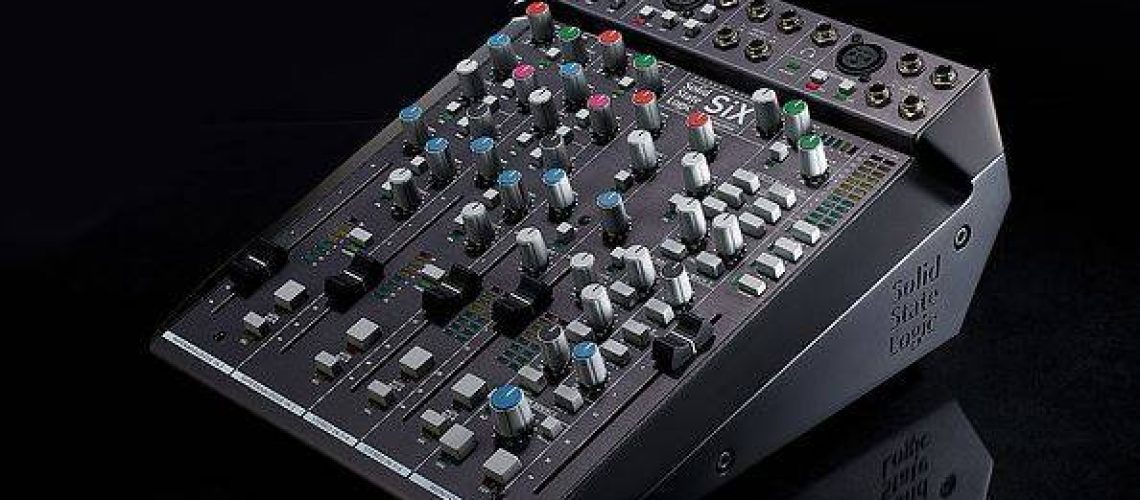 Buying and finding the right gear can be one of the most satisfying experiences of being an audio engineer, not just buying it but finding a way to make it a part of your workflow and watching your work change as you make them a part of your recording process is extremely satisfying.

In today's blog I'm going to talk to you guys about the SSL SiX.
There will be follow up blogs about some of the equipment that I've found extremely cool over the last year and that's drawing attention from around the world. Incidentally these are also pieces of equipment that we are planning to get as a part of our ever expanding gear.
Yes you've seen it right, the British Company Solid State Logic this year announced a small format mixer that gives you the capacity of integrating the best of the Analog world into a hybrid setup.
At a first glance this piece of device invokes a feeling of doubt due to the aesthetic of the mixer(Small and Shabby), but the more you dive into it the more you'll realize how amazing this piece of gear really is.
Over the next few blogs I will do a detailed breakdown of the various things that this small mixer is capable of doing and it can seriously blow your mind.
First off let's start with what it offers:
A. 2 Super Analogue SSL Preamps
B. 2 SSL EQS
C. 2 Knob SSL BUS Channel Compressor
D. 12 Channels of Audio Summing
E. 2 Cue Outputs for Headphone Mixes
F. Talkback Channel with Phantom and LMC
G. Fully functional Monitoring Section with Mono, Mute and Dim!
Too good to be true right?
After a little digging, I found out that a couple years back SSL got acquired by this company called Audiotronix, this company owns the likes of Digico,Allen and Heath, Klang, Calrec and a lot more. This gave SSL access a manufacturing facility in China that allows it to make these consoles as such competitive market prices. Yes, I know what you're thinking, if its made in China is it any good? Well, the most consumed Phones and Laptops that you're typing from are made in China and I don't see anyone complaining about them.
Let me put your fears to rest, the components used in building the console are exactly the same as the ones in the standard super-analogue channel strip, based on what the SVP of SSL commented on in an article
The question most people ask is now, how do we integrate this into our workflow?
Well the answer is different based on the different equipment that people own, but one thing is clear that the SSL SiX require you to have a good AD/DA convertor capable of doing the conversion for multiple channels. This has been a complaint from most users, that the SSL Six doesn't have AD/DA onboard. But for the price it is offered, you can't really complain.
The cool thing about this mixer is that you can use it for recording, summing, as well as routing all your internal equipment through it.
Let me show you how we plan on using this as a device as a part of our setup.
So the SSL SiX has:
2 Preamp Channels with Mic and Line Level Inputs
Channel 3-4 and 5-6 that are Line Level Inputs
External 1-2 and External 3-4 that are 2 stereo inputs
and Alt 1 and Alt 2 which are two separate mono inputs giving you a total of 12 channels of SUMMING outside the box.
This can be used not just for mixing but to neatly route all your analog signals in a studio that has a lot of outboard gear.
Let's say we have Vocals on Channel 1 and Bass on Channel 2. Using the insert function on this channel we can connect the WA76 to each of the channels and get the compressed signal back into the main mix bus of the device.
Now let's say we have the drums coming on the channel 3-4, we can route the signal from the AD/DA converter to the Manley Varimu to compress and then come back into channel 3-4 into the mixer.
Similarly we can route other signals from our PT Session into the board, say 4-5 becomes our keys, ext1-2 becomes Strings and ext 3-4 becomes Effects.
All these signals now will come to the main mix but, (You can also send the signal to a parallel mix bus B WHAT?) where you can compress the mix using the simple one knob compressor on the mix buss and use the main mix insert to send this signal to an outboard EQ and bring it back in to print your final mix in your DAW of choice.
Now all the signals are coming out from our box and going into the mixer in the analog domain stays in the analog domain giving you the capacity to drive the signal in the analog domain and impart certain characteristics of the analog sound like THD and drive that we are so used to listening to. This doesn't mean that Analog gives you a much better headroom, your headroom is still limited by the bit depth of your system as the signal is going to come back and get recorded in your DAW.
This gives you a chance to get that ever elusive "ANALOG" sound and to tie all your analog gear in one simple setup without having to do multiple rounds of AD/DA conversion before finalizing the sound.
So for all the people who say what's the use of this gear, well you need to sit down and understand how well designed and functional this piece of gear is before you pass intuitive judgments based on the design and price.
SSL has given multiple options of ways you can integrate it into your workflow, here are some of those images.
Get in touch!
If you guys have another other questions you would like to shoot at me, just shoot me a mail at ronak@gray-spark.com.