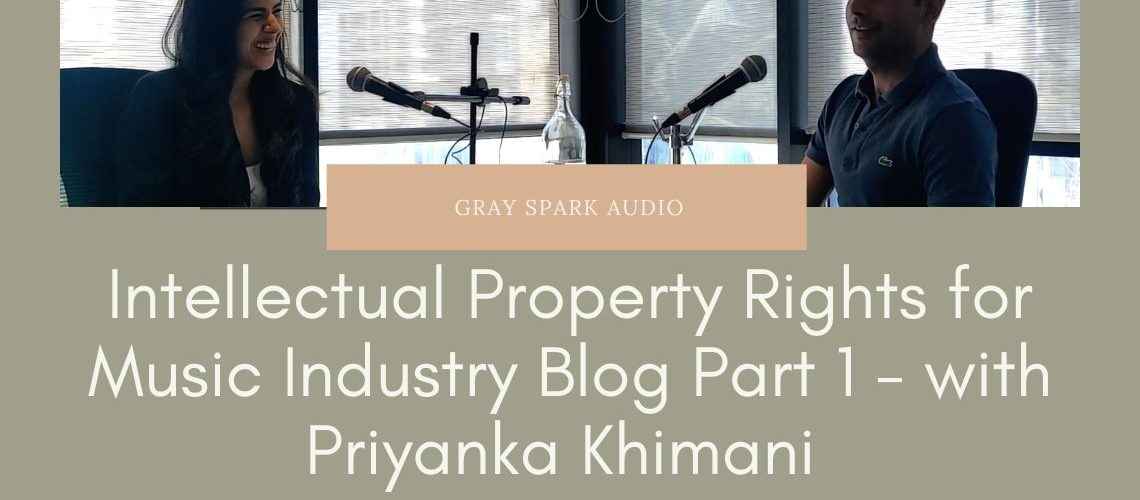 In this blog   we would like to revisit one of our Beyond The Live Room podcast episodes with  Priyanka Khimani, co-founder & partner at Anand & Anand & Khimani, a leading law firm in Mumbai.
Priyanka has from the onset of her career successfully handled a number of high-profile matters and is known to have represented the crème de la crème of the music & entertainment space in India.
I hope this blog can briefly summarize the conversation with Priyanka and would also give artists across the country a better understanding of their legal rights and obligations.

Priyanka is the founder of Khimani & Associates, a full-service law firm that is highly recognised for its entertainment and intellectual property practice. Priyanka is regarded as one of India's young and thought-provoking lawyers, who has risen to build one of the most coveted new-age firms in a short span of time.

How did it all start for Priyanka in this field?
Priyanka goes on to say "for me being able to build the kind of practice that I have built today and say this very often even to a lot of young lawyers who say that they want to have a career in entertainment is, I think a large part of the reason why we've been able to do this is because of all of that experience that I had over a period of eight ten years you know trying different aspects you I dabbled a little bit in theater in modeling in ads in you know fashion shows and of course extensively writing you see a lot of failure of course I mean you know you've you try you fail but you make a lot of relationships and you learn a lot and think a lot of those learnings today helped me because very few lawyers have even set foot on a set"
A word of advice to younger lawyers who are looking to help artists
As Khimani quotes "I say this again to a lot of young lawyers especially to the lawyers within our team that what you need is a commercial bent of mind. People are not coming to you for you to always tell them what is it that you can't do they're coming to you for you to be able to tell them how is it that they can do what they really want to do without upsetting any of the systems or disrupt you know violating any laws or doing it within the legal framework and I think that's what that's the value add that I feel as a commercial lawyer we bring to the table and which is why we've built this out of reputation that we've been able to build today". 
Why is that talent do not get paid on time and what do we as artists do to avoid such situations
Prianka goes on to say "I don't think it's a question of you know why talent does not get paid on time. It's a problem that is universal, vendors don't get paid on time today when you have a show right. I think not getting paid is a universal problem. When it comes to artists particularly let's deal with that right I don't know how many of them insist in the beginning of a relationship that they want to have some sort of uh understanding and writing now when I say in writing I am not insisting for a moment that you compulsively have long form contracts drawn out right but even simple email communication right even simple whatsapps right just exchange we're all very savvy. You are talking, you're sending your scratches to people on whatsapp so that they can give it a listen why can't you in the same thread just say, 'hey i'll do it for this much agreed just by the way you know i'd like to get x amount paid when i'm starting work today right and the balance can let me know by when should I expect that payment' just create a written record it is as simple as that okay you don't need a lawyer you don't need anyone to teach you this right you just need to have it somewhere there and ask these questions first instead of asking them later when you've not gotten paid true because then I don't even know what to hold the other person to did I commit that i'll pay you by no you never asked right so it's it's really common sense uh unfortunately I don't think people realize that it can be as simple or as straightforward as that okay and this maybe a written communication is somehow legally binding if all of us which is right I mean we're in a country under our contract or even older contracts are perfectly valid and binding contracts right right contracts need not be of course and you will need evidence and demonstrate if you have a witness if you and me are together and someone else is in the room and says yes you know priyanka did agree to this that's that but so also any written communication right your emails your whatsapps your text messages voice notes all of it is perfectly valid and binding what's a contract at the end of the day it's an exchange between two people correct right so so long as it meets those basic essentials it is perfectly valid and binding you have in this country even contracts by conduct so let's say there is nothing that's sort of you know where i'm being able to crystallize it but you and I have been meeting talking i've been inviting you to my studio you've been coming in every single day we've been jamming together by conduct I am acknowledging that hey you andIare part of this together right it's a little difficult for me to then make a u-turn and say otherwise so what i'm trying to say is that even within the legal system there is so much flexibility you don't always need a lawyer and you don't always need a smart contract to be equipped with it's just common sense or something as simple as laying out your deliverables".
What do we do if we find ourselves in such situations?
As quoted by Priyanka Khimani "Send them a notice it doesn't cost you much to send a notice you can't go to a lawyer if you can't go to a lawyer just send them a stinker draft a stinker and send it saying this is uncool if i'm not gonna be paid within seven days I am then going to you know xyz either make sure that you're not going to tell them if i'm not getting paid you're not going to be able to use these works period because guess what for any assignment or license to be complete consideration is important right if you haven't been paid the entirety of your consideration that other person's enjoyment of your rights becomes bad in law so just right again people don't we're all complaining we're talking about it but we're not taking action it's important to take action coming to how much does it cost to go to a lawyer well it's like saying that you could go to a dentist who would extract a tooth for 500 rupees as opposed to you could go to a dentist who would do the same thing for 5000 bucks right there's the difference is in the quality in the which you know in your recovery after that and what happened so it's the same".
Get in touch!
If you guys have another other questions you would like to shoot at me, just shoot me a mail at ronak@gray-spark.com.