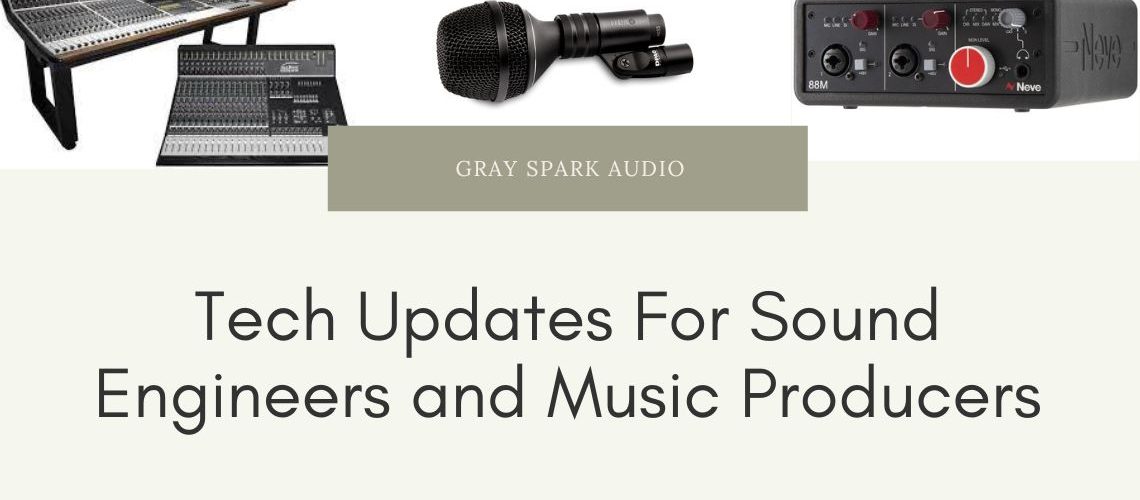 We are almost at the middle of the year, 2022 and there have been so many new technologies that have come up, with the revolutionary M1 Chip Technology by Apple and now even M2 being announced. The upgrade in processing that these chips have brought have changed the whole speed and efficiency game for systems and computers. With 4 times as fast and less heating and less power consumption these chip sets have been such a blessing this year for all Music Producers, Audio Engineers and other people in the music industry.

In this blog we talk about 4 major techs that have come out recently that no ones really talking about
Techs For Sound Engineers and Music Producers
1. NEVE 88M dual channel interface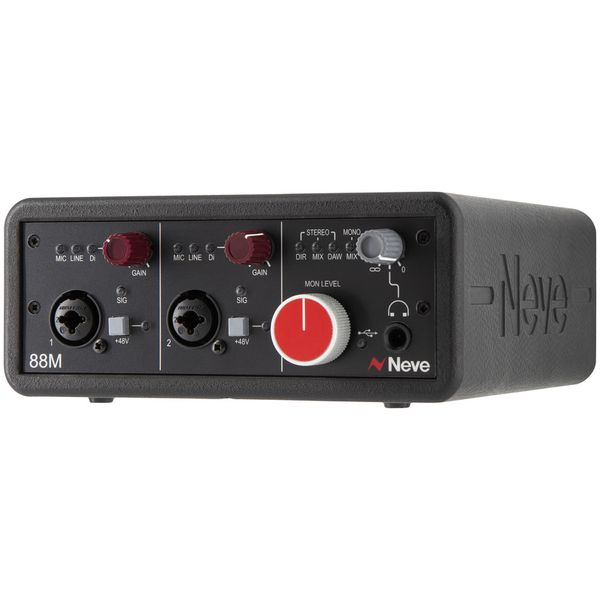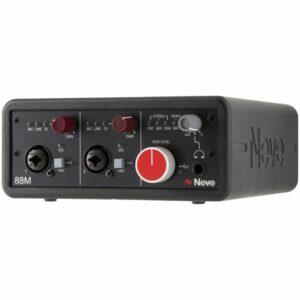 On the first day of the 2022 NAMM Show, AMS Neve announced the new 88M ($1245) dual mic pre and USB interface. Utilizing the same technology found in Neve's flagship 88RS console, the 88M brings the brand's legendary sound to a compact desktop interface.
The all-new 88M USB audio interface combines two studio-quality preamps with mastering-grade AD/DA converters powered by class-leading ESS Chip Sets. The mic, line and DI inputs on the new 88M are all transformer-balanced using Neve's exclusive Marinair transformers, making it easy to capture the classic Neve sound even when you go direct.
When it comes to monitoring, the 88M uses the same iconic red monitor level control as the 88RS console, complete with a center indent set at -12dB below maximum output for calibrating your speakers to an ideal listening level. The built-in headphone amp has very high headroom and independent level control and is designed to work with modern studio headphones.
Push the headphone volume knob to toggle through four different playback modes: direct stereo, mix, DAW and mono mix. These monitoring options provide simple, latency-free solutions for tracking, playback or overdubbing stereo or mono microphone sources.
In addition to the two analog inputs on the front, the 88M features ADAT input and output on the back for expanding your I/O with up to eight extra inputs and outputs, while balanced inserts on the back made it easy to connect your favorite outboard gear.
Best of all, the new 88M delivers classic Neve sound, right out of the box. It's bus-powered via USB 3.0 and is completely plug and play on both Mac and PC. Plus, with a rugged design featuring Neutrik connectors and Neve console parts, you can take it with you wherever you go.
The 88M is designed for plug-and-play connectivity, taking power directly from the USB 3.0 connection. This class-compliant audio interface can be connected quickly to any laptop and be ready to record music in minutes.
The 88M uses the same microphone preamplifier as the world-leading 88R console. The 88 Marinair transformer-coupled preamp, used on countless top ten singles and film scores, is a proven design that delivers analogue punch and clarity to all signal sources.

The 88M microphone, line and DI analogue inputs are fed through the Marinair transformer, ensuring that all microphone & instrument inputs benefit from the legendary Neve preamp sound.

Both preamp channels feature a balanced insert send & return loop, ideal for connecting analogue outboard processing into your recording chain. Each insert send is always active, allowing for signal splitting, and providing an analogue output for each preamp before the A/D converter.

Like its progenitor – the two-ton 88RS console, the 88M is built to last. Housed in a high grade and robust shell, the 88M is the ideal interface to take out on the road.

The 88M uses premium AD/DA conversion chips to deliver ultimate fidelity for all outgoing and incoming audio signals. With the 88M in your home studio arsenal, you can trust your converters, knowing that the recorded sound is as pure as the sound in the studio.
Several built-in and simple to use monitoring options are available, providing latency-free monitoring for mono and stereo signal sources. Ideal for playback, tracking and overdubbing.

Techs For Sound Engineers and Music Producers
2. DPA 4055 Kick Drum Mic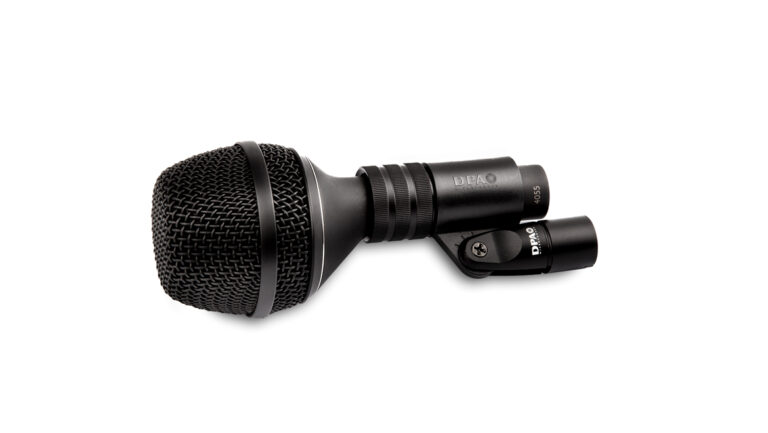 Different from traditional kick drum mics, this new addition to the DPA product lineup is a durable mic solution that is not pre-tailored to any specific sound, allowing sound engineers to shape the sound exactly as desired. The 4055 Kick Drum Mic has been rigorously tested to perform in a variety of applications―like pop, rock, jazz, folk and other genres. It is built to withstand the rigors of life on the road and performs equally well in the studio.
With an intentional use for kick drum-specific applications, the 4055 delivers the renowned DPA sound, picking up the true, clear sound of the instrument. The mic also offers a linear frequency response, both on- and off axis, which results in a very tight, natural, well-defined sound. The low end is punchier and dials in the right setting for the beater, while removing some of the mid-range is easier than ever before.
Techs For Sound Engineers and Music Producers

The shape of the DPA 4055 is another unique feature that sets it apart from other kick drum mics. Its asymmetric design makes it easy to position when slid into any size drum without risking a tear in the drum skin. It can also be placed both inside or outside the kick drum, so finding the ideal placement is quick and effortless. Additionally, the 4055 has a large housing and ample wind damping foam, positioned in front of the capsule behind the grille, to deal with turbulence in front of the drum holes. This is accomplished without compromising on sound pickup or quality.
"We are very excited for the creative possibilities and high-quality sound that this new kick drum microphone provides in both live and recording applications," says René Mørch, product director, DPA Microphones A/S. "While people turn to DPA for our miniature solutions, we know that they are also used to using a large kick drum mic that can handle high SPLs and dampen the inherent wind created by the movement of the drum skin. We took all this into account when designing the 4055 Kick Drum mic and working with several engineers throughout the development, created a solution that is large, yet unobtrusive, and delivers the best sound available on the market."  
This new kick drum mic exhibits the same qualities as all DPA directional mics with a flat on-axis and a very controlled, linear off-axis. Thanks to this flat curve, the sound of the 4055 can be tailored and tweaked as necessary depending on what genre is being played. Unlike other drum mics, you can hear the differences in sound when the DPA 4055 mic is placed at various angles to the kick drum. Being a condenser mic, it is fast and produces a tight and clean sound even at very high SPL (max SPL is 164 dB).
The DPA 4055 is not limited to the kick drum. It works equally well on other instruments, such as electric guitar cabinets, bass and horns. Its flat frequency response and ability to bring the uncolored sound to the next level works well on many instrument types

Techs For Sound Engineers and Music Producers
3. Audient ASP4816 Heritage Edition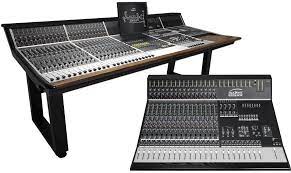 The Audient ASP8024-HE is a large-format console featuring world-class Audient mic preamps, 56 to 152 inputs, 14 aux buses, 8 stereo subgroups, Retro Iron mix-bus processing, John Hardy 990C summing amps, split-able EQ, mix-bus compressor, and more.
The ASP8024 Heritage Edition is a new incarnation of the original ASP8024, designed and built by David Dearden. Backed by his 40 years of console design experience, which includes consoles for MCI, Soundcraft, DDA, and Midas, the ASP8024 became a modern classic having provided the foundation for Audient's leadership in the field of cost-effective, high-quality recording desks. After 20 years in production, Audient has taken that foundation and reimagined the ASP8024 with new features and enhancements that offer a surprising level of workflow flexibility as well as new sound-shaping options on top of the ASP8024-HE's great-sounding preamps and John Hardy 990C summing amplifiers. Based on the ASP8024's legendary circuit blocks, Audient has returned to designer David Dearden's roots to release the definitive version of the ASP8024; the ASP8024 Heritage Edition.
Audient ASP8024-HE—Just the Facts:
World-class Audient mic pres, 56-152 inputs, 14 auxiliary buses, 8 stereo subgroups

Variable mix bus

John Hardy 990C summing amps

4-band split-able EQ

Mix-bus compressor

Inline architecture

Comprehensive monitor control

Monitoring-grade headphone output

Modular construction

Whisper-quiet power supply

Impressive "Black Raven" vintage/modern look
ASP8024 optional extras:
Patchbay

Dual-layer control (DAW and analog automation)

Producers desk

VESA mount option
Audient ASP8024-HE—Beneath the Surface
Audient console mic preamplifiers
Not only is the Audient mic pre renowned for being clean, punchy and musical, it is often regarded as one of the most versatile mic pres available. Its impressive dynamic range enables faithful reproduction of the sound source, with greater realism in the audible range and better blending of instruments, plus just enough color to give the signal some character.
The Audient ASP8024-HE mic pre is an all-discrete, high-grade op-amp design that delivers low noise, low distortion, and high common mode rejection (CMMR) at all gain levels, which is part of the secret of Audient design. According to designer Dave Dearden, "A successful mic pre doesn't just have to amplify a low-level signal up to something more usable. It must also be protected against an external attack such as static, phantom power, and radio frequency interference (RFI). This is where component choice is vital, especially the low-noise transistors and even passive elements such as resistors and RFI filters."
Audient is the only company that uses the same Class-A mic pre design throughout their entire product range. There are no upsell or down-market "based-on" preamps. When you buy Audient, you're getting full-on Audient sound, whether you're in the studio with an Audient console, or on the road with an iD4 interface.
Discrete John Hardy 990C summing amps
The mix-bus summing amplifier on a console, where all signals come together to play nicely is the most crucial part of the console design. Cutting corners here results in what Abbey Road engineers called a "ship fight." (Imagine a fight breaks among the entire crew of a battleship at sea, leaving no place to escape.) Audient upgraded the ASP8024's summing amplifiers to the renowned American John Hardy 990C amplifiers. The 990 discrete op-amp was designed by studio tech legend Deane Jensen in 1979, which continues to be regarded as the finest op-amp available for audio applications. In 2018, the 990 discrete op-amp was inducted into NAMM's prestigious TEChnology Hall of Fame. Interestingly enough, Deane's company, Jensen Transformers, never made the 990. There were manufactured by The John Hardy Company in 1980-81—hence the name John Hardy 990C.
Comprehensive monitor control
The ASP8024-HE boasts a full-featured monitor control section, with artist communication, remote talkback control, an additional engineer headphone output, powerful source selection, and loudspeaker control with a short passive signal path for incredibly clear and accurate monitoring. Since you'll be reaching for the monitor control knob a lot, Audient added the phenomenal-feeling Alps "Blue Velvet" pot and custom aluminum knob for a touch of class during everyday use.
Reference headphone amplifier
ASP8024 Heritage Edition comes with a high-current reference headphone amplifier provided as the ALT3 monitor output destination. The new design features a 250mA high-current output stage based upon class leading Burr-Brown and LM4562 high-speed amplifiers. The output is entirely DC-coupled with very low output impedance for all types of headphones. There's only one main capacitor in the signal path for very low distortion and enhanced sonic performance.
Green power
Saving you money in more ways than just electric bills, the ASP8120 Ultra Power Supply is not only incredibly efficient, it's also whisper-quiet, enabling it to be situated in the control room without disturbing your workflow—no need for an expensive and air-conditioned machine room. With a low noise transformer and low RPM fan cooling system our power supply is a safe choice for years to come and has helped make the ASP8024-HE more reliable than ever.
Impressive look and feel
Studios are often chosen by sight rather than by sound, as many owners have come to realize—and there's nothing more impressive than a large-format console. And the modern/vintage look of the ASP8024-HE says, "studio to reckoned with." Building on the modern classic as well as taking inspiration from classic pieces of gear, Audients "Black Raven" color-way, vintage knobs, chunky fader caps, and British design theme not only make the ASP8024-HE a visually stunning centerpiece but also make it more intuitive than ever.
Audient ASP8024-HE Options
Patchbay
While the patchbay is technically considered an option, it's an essential one. Not only does it bring all of the ASP8024-HE's functions into one convenient location, including insert points, it also provides other very useful features, such as level control between +4dBu and -10dBV sources, artist fold-back, alt speakers, stereo FX returns, 144 tie lines for outboard, and the ability to send up to three parallel signals from a single source. Additionally, all connections are carried via DB-25 connectors, making Cannon or Elco crimping tools, soldering iron, and raw fingers a thing of the past. Plus, and this is a big plus, Audient has reduced the price on the patchbay to make it even more cost-effective and easier to include with your console. The savings in studio (wo)man hours alone is worth the investment.
*PAD Pro Tip: When you consider purchasing a console, always budget for a patchbay plus the cost of wiring it to your studio. Think of it as part of the cost so that you don't end up "console poor" when the time comes to install and configure a patchbay—and we can assure you, even with a small amount of outboard, that time will come.
Producer's desk
The Producer's Desk provides extra real estate on your console to place a keyboard, mouse, or even a control surface at the center of your console or to one side for a second engineer. Traditionally, a producer uses one (hence the name, "producer's desk") to take session notes or annotate music scores alongside the engineer. There are many ways to use this option and take advantage of the beautifully included walnut script tray.
If you have two PD modules side-by-side (Double PD) it allows you to accommodate larger control surfaces, such as the Slate Raven or Avid S3 controller.
Dual Layer Control
Dual Layer Control (DLC) was designed to seamlessly integrate with your DAW and let you combine both your analog and digital workflows on the ASP8024-HE giving you complete hands-on control over your mix or recording session. It integrates seamlessly with Pro Tools, Cubase 9, and Logic X DAWs.
DLC provides you with a range of useful DAW control features within easy reach, including 8 bankable faders, transport control, track record enable, pan control, aux sends, and plug-in selection/editing—all of which enable you to navigate your session with ease.
DLC's automated faders give you a wide range of creative options. Whether you're adding realistic and accurate vocal rides to your mix or simply bringing your drum group up in the chorus, DLC allows you to avoid staring at the screen and painstakingly drawing in your automation levels and instead lets you work fast and efficiently. Techs For Sound Engineers and Music Producers
VCA Automation
By using DLC's 8 channels of VCA automation you add movement and finesse during your console mix balances. The VCAs can be individually routed to subgroups 1-8 or independent DB25 i/o that can be patched to any console insert point for creative use. Try riding your hardware compressed drum parallel in the chorus or automated pre/post insert effect for wild automated distortion control with your outboard gear.
Simple and intuitive control via Faderlink
DLC is connected via Audient's proprietary Faderlink plug-in (64-Bit AAX, VST & Audio Units) to record, edit, and recall 8-channels of VCA automation directly from your DAW session, providing visual automation of level and mute. DLC is connected via HUITM protocol. Supported DAW's include: Cubase, Nuendo, Logic Pro X, and Pro Tools.
5.1 Surround-sound mixing
Whether you're working on film scores or simply mixing in 5.1, the ASP510 surround-sound monitor controller integrates seamlessly with your ASP8024, providing you with an efficient, powerful and intuitive 5.1 surround sound workstation—all while using only one connection.
What the pros are saying about the ASP8024-HE
I'd prefer to have an audient console in my studio than the money equivalent of several fancy vintage rack boxes. I like the audient. I really like it. It's a powerful tool. — PETE TOWNSHEND (Who? Yes, that Pete Townshend)
It was hard to imagine an improvement to the asp's already clean and punchy sound, but the new john hardy 990 op amps give it extra zing and crystal clarity. — RUSS RUSSELL (Napalm Death, Dimmu Borgir)
About Audient
Audient was founded in 1997 by David Dearden and Gareth Davies. Dearden started his career in 1968 as an assistant to David Manley (original founder of Manley Labs) and later became a junior maintenance engineer for Advision Studios, which led to work with studio designer Eddie Veale, building a custom console and private studio for John Lennon's Imagine sessions, as well as studios for George Harrison, Ringo Starr, Gus Dudgeon (Elton John, David Bowie), and Chris Squire of Yes. Dearden met Audient co-founder Gareth Davies while the pair were working at Soundcraft. Upon hearing of a possible financial downturn for Soundcraft, they decided to jump ship before the pinks slips arrived, founding DDA (Dearden Davies Associates) consoles in 1980.
Techs For Sound Engineers and Music Producers
GPU Audio is a company that's on a mission that seems simple, but has been something that noone has been able to crack for the last decade, using GPU cores to process Audio. So far when we think of Audio Processing we think of single threaded processor performance, the faster the processor the faster it will be able to complete audio processing tasks. Over the years Intel processors have been some of the fastest CPUs that are used in the industry, with the new M1 chips that have taken the MacOS performance to another level. With the advent of this new technology we will be able to utilize GPUs like the NVIDIA 3080 that has 8704 CUDA cores to do all the heavy lifting in terms of Audio processing. If this technology gets adopted computers with powerful GPUs will be able to perform extremely complex tasks.
Techs For Sound Engineers and Music Producers

What is GPU Audio?
GPU Audio™ is a Digital Sound Processing platform that unlocks a standard GPU to handle audio production with next-gen performance capabilities. Compatible with the VST3 standard, as well as custom software, GPU Audio dramatically enhances performance by offloading processing from a computer's CPU to its GPU.

Why GPU?
Graphics cards have unrivaled computing power, networkability and scalability that has, until now, been a pipe dream for audio applications. However, by fulfilling the dream of unlocking the power of parallel GPU-core processing, we can finally achieve a democratized standard of audio acceleration for audio producers – from bedroom producers to major studios and live venues, without the need for expensive, walled-garden DSP hardware.
Techs For Sound Engineers and Music Producers
Get in touch!
If you guys have another other questions you would like to shoot at me, just shoot me a mail at ronak@gray-spark.com.